| | |
| --- | --- |
| | |
Greenville — with its bustling art scene, bike-friendly attitude, colorful architecture and Southern hospitality — is rising the charts as one of the most desirable places to visit in the country. It's also one of America's fastest-growing cities, drawing thousands of people every year who are eager to call this thriving town home.
Whether you live here or you're just visiting, there is so much to keep you entertained. So much, in fact, that it can be tough to decide what to do first. We rounded up a list of the top 16 things to do in the area, from wineries to outdoor activities and everything in between. How many can you check off this list?
Photo courtesy of the City of Greenville Parks & Recreation
This exquisite natural oasis anchors the city of Greenville with gorgeous waterfalls, tree-lined walking trails, lush greenery and sunny spots for picnicking. It's a wonderful spot to explore if you'd like to escape the hustle and bustle of city life for a few moments, offering plenty of opportunities for outdoor and recreational activities. Venture across the Liberty Bridge, which arcs over the park to offer views of the falls, and then peruse the public art and sculptures that can be found throughout.
Swamp Rabbit Trail is one of Greenville's must-try bucket list items, attracting more than 1,000 visitors each day to traverse the 22 miles to the nearby Travelers Rest via bike or by foot. Rent a bike from a nearby shop to try it for yourself — and if you can't make the full distance, you can always turn around! It's an ideal way to get some exercise and view the local scenery.
Photo courtesy of the Greenville County Museum of Art
If you're a fan of art — or if you just like looking at pretty things — the Greenville County Museum of Art is a must. The museum is considered to be the premier American art museum in the South, and is home to the world's largest public collection of watercolors by iconic American artist Andrew Wyeth. You'll find impressive collections of prints, painting and sculptures throughout, and you'll leave with a comprehensive idea of American artwork with a particular emphasis on the South and the Carolinas.
Located just north of the city, Paris Mountain State Park is a 1,540-acre paradise featuring seemingly endless hiking and biking trails, canoe and kayak rentals, and plenty of spots to sit and take in the views. If you're looking to extend your day trip, consider booking a campsite for the weekend — there are dozens available.
The Peace Center is the hub of cultural life in upstate South Carolina, featuring a 2,100-seat concert hall, a state-of-the-art amphitheater, and a 400-seat theater. The center plays host to hundreds of events per year, so on any given night, you'll find something to entertain you! Peruse the event calendar to plan your next outing.
Photo courtesy of Frankie's Fun Park
There's something fun for people of all ages at Frankie's Fun Park. This fun center features more than 100 arcade games, a go-kart course, virtual reality games, laser tag, a fun house, a batting cage, amusement park rides, bumper boats and the best mini golf course in town. Bring the whole family to explore, but keep in mind you might need more than a few hours!
There's always something new to learn at the Roper Mountain Science Center. Come experience the on-site butterfly garden, the living history farm, the nature trails, the hall of natural science and so much more! The planetarium is one of the center's best attractions and is home to the nation's seventh largest telescope.
If you're looking for some good, old-fashioned belly laughs, look no further! Since 1979, Cafe and Then Some has been performing for the citizens of Greenville. Book a night out with the unabashedly silly comedy troupe, and enjoy a wacky show and a delicious meal to go with it. Shows take place nightly Wednesday through Saturday.
Photo courtesy of Black Horse Run
Located on the outskirts of Greenville County, Black Horse Run is a little piece of the Old West tucked away in a picturesque setting. You have the chance to experience it all for yourself on horseback with a guided trail ride from one of the professionals. Explore the country trails, wooded areas, trickling creeks and scenic meadows — all levels of experience are welcome!
Eat your way through Greenville on a culinary tour
Greenville boasts a wide selection of globally-inspired fare prepared by award-winning chefs. Experience the best of our culinary scene by embarking on the At the Chef's Tabletour with Greenville History Tours. This three-hour tour will take you to five delicious restaurants and will give you fascinating insights into Greenville's rich history, culture and architecture.
Go on a self-guided brewery tour
And as much as we love our food here, we might love our beer even more! Craft beer aficionados will love the chance to explore Greenville's local beer scene. Our city is dotted with them — and each boasts a different style and personality. Of course, there are way too many to experience in one day, so choose a few within easy reach and split a flight with friends at each stop. You might just find a live band (or a new favorite beer) along the way! We recommend Grateful Brew, Thomas Creek Brewery and Upstate Craft Beer to start.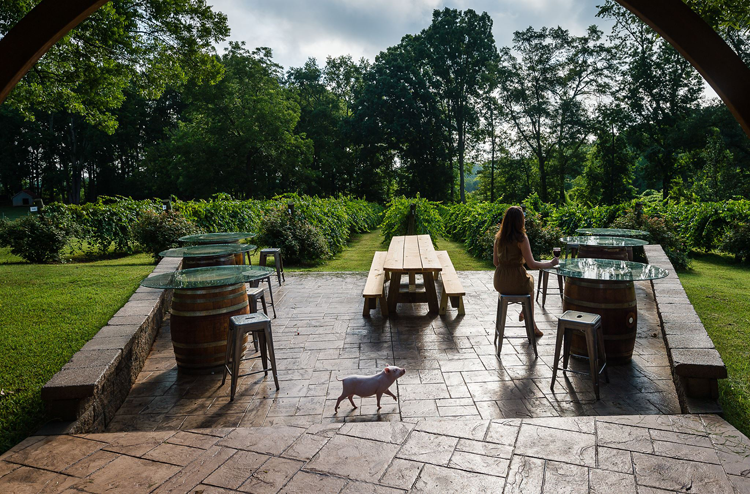 Photo courtesy of City Scape Winery
If you prefer wine to beer, there's something local for you, too! Head up the hill to City Scape Winery to sample wines inspired by the local landscape and vinted in the cellars on site. The winery is owned by husband-and-wife team Josh and Deb Jones, who will happily welcome you onto the premises! The pair has traveled to Napa Valley, Sonoma County, Willamette Valley, Spain, Portugal and Italy to learn more about the craft and provide their guests with the best-tasting product possible. Come sample the selection while taking in the picturesque views of the Greenville skyline and keep an eye out for the couple's adorable pet pig while you're there.
Grab a bite at Soby's
It's tough to avoid picking a favorite restaurant when Soby's is in the mix. Situated in a renovated 1800s historic cotton mill in the heart of downtown Greenville, the restaurant offers an unbeatable atmosphere with fun decor and rustic touches — and the outdoor patio is a great spot for people watching. Get a true taste of the South with a modern twist and accompany anything on the menu with a hand-crafted cocktail or a selection from the extensive wine list.
Baseball fans will love visiting the Shoeless Joe Jackson Museum. Located in the house where the baseball legend lived and died, the museum honors the life of a man who maintained an unheard-of batting average of .356 and who is known for fixing the World Series. He was one of the most beloved ball players of all time, and even if you're unfamiliar with the name, the museum is a sight worth seeing!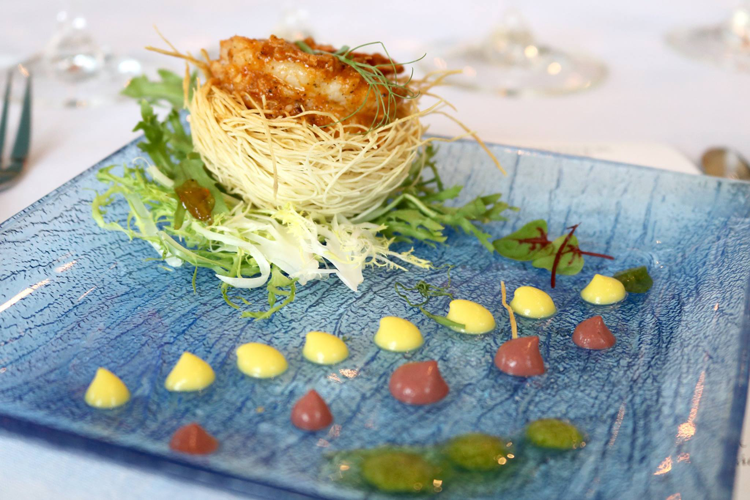 Photo courtesy of The Lazy Goat
The Lazy Goat is a universal favorite among Greenville locals and visitors alike, offering picturesque views of the river, upscale Mediterranean cuisine and inventive cocktails. Settle with loved ones at one of the community tables and order an assortment of shareables inspired by the cultures of Spain, Italy, Morocco, France, Greece, the Middle East and North Africa.
Experience Greenville's Wild Side at the Greenville Zoo
The Greenville Zoo has been serving the area since 1960 and is a beloved gathering place for Greenville families. Nestled within Cleveland Park, the zoo spans 14 acres and houses interesting species from all over the world! Plus, there are picnic areas and volleyball courts onsite for enjoying the gorgeous Greenville weather.
Enjoy your time in Greenville!
If you're looking to move here, good choice! Use our advanced property search tool to find your dream home.
Courtesy of the Allen Tate